Disclaimer: I received a free copy of the book in exchange for an honest review.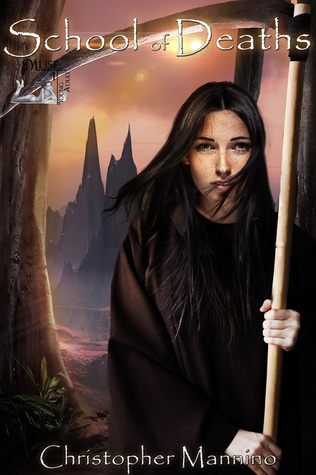 SYNOPSIS:
Thrust into a world of men, can a timid girl find bravery as the first female Death?
Thirteen-year-old Suzie Sarnio always believed the Grim Reaper was a fairy tale image of a skeleton with a scythe. Now, forced to enter the College of Deaths, she finds herself training to bring souls from the Living World to the Hereafter. The task is demanding enough, but as the only female in the all-male College, she quickly becomes a target. Attacked by both classmates and strangers, Suzie is alone in a world where even her teachers want her to fail.
Scythes hungry for souls, Deaths who subjugate a race of mysterious magicians, and echoes of an ancient war with Dragons.
As her year progresses, Suzie suspects her presence isn't an accident. She uncovers a plot to overthrow the World of Deaths. Now she must also discover the reason she's been brought there: the first female Death in a million years.
My Review:
Christopher has become one of my favorite writers. I couldn't put this one down. I love the characters and the world he's created. We are introduced to Suzie. She is put into a situation where she is the only female among a bunch of males. She has to fight to survive against all of her peers and the teacher. None of them her to make it to the end. She's not going to let the odds stop her from reaching her goal. It has some great twists and turns. This one that any reader of YA fantasy will love to read. I look forward to reading more of Christopher's books.
ABOUT THE AUTHOR:
Christopher Mannino's life is best described as an unending creative outlet. He teaches high school theatre in Greenbelt, Maryland. In addition to his daily drama classes, he runs several after-school performance/production drama groups. He spends his summers writing and singing. Mannino holds a Master of Arts in Theatre Education from Catholic University, and has studied mythology and literature both in America and at Oxford University. His work with young people helped inspire him to write young adult fantasy, although it was his love of reading that truly brought his writing to life.
Mannino is currently working on a sequel to "School of Deaths" as well as an adult science fiction novel. To learn more about Christopher check out his site here.
PURCHASE AND SOCIAL MEDIA LINKS:
Amazon | Barnes and Noble | Kobo