Disclaimer: I received a free copy of the book in exchange for an honest review.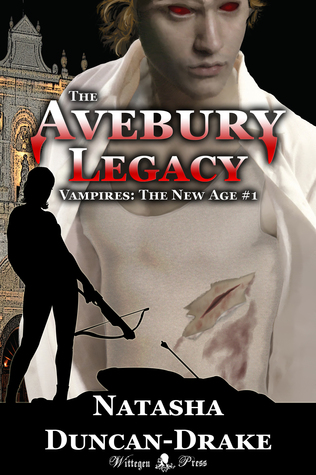 Previously titled Advent.
Nate was hunting a vampire when he first bumped into Lexie, a witch infected by a vampire bite. When Lexie used blood magic to save him from certain death, she passed on the infection to Nate. For a time Lexie's magic has been able to keep them both partially human as they continue to protect ignorant humanity from the vampire threat, but that magic is now starting to fail.
There are legends that the ancient Avebury ritual designed to destroy Morigan of Leyland, the most powerful vampire ever known, may hold the key to the cure they need, but to perform it Nate and Lexie require the four relics from the original ritual. Enlisting the help of veteran hunter, Brian Hawker, who has his own reasons for finding the relics, they must search across continents before it is too late.
In their way are vampire nuns, a crystal cave, shape changers, a labyrinthine catacomb, mummified monks and even librarians. However, their greatest foe is Dahlia, undead sister of Morigan, who will stop at nothing to retrieve the relics for herself and to claim Morigan's power. If Dahlia reaches any of the relics before them, Nate and Lexie face a fate worse than death, losing their humanity to the blood lust.
My Review:
Natasha is an amazing writer.  I couldn't put it down. The characters and the world she has created are great. My favorite characters are Nate and Lexie. Loved the plot. It has some great twists and turns. I was surprised at the ending never expected it to end that way. Readers are drawn in from the beginning. Anyone who loves vampire novels will love this one. Add it to your TBR list you won't be disappointed. I look forward to reading more of Natasha's books.
About the Author:
(I also write under the pen name Tasha Duncan when writing with my twin sister).
Natasha, or Tasha to her friends, is a hopeless romantic with an undying love for the written word.
Until the beginning of 2010 she was systems consultant/software developer who wrote as a hobby, then she was made redundant and decided to use her settlement package to change directions to the career she had always dreamed of.
She has been writing since she was pre-teen, although she feels she has improved a great deal over the years ;). It all started when listening to the Hobbit being read in primary school and from that day on she knew she wanted to write. Being inclined towards the sciences as well, however, she chose that career path to begin with, but being a student apprentice for BAe Space Systems did nothing to minimise her love of science fiction.
After university she went on to complete her PhD at the University of Kent, Canterbury, and then leapt into the world of web design and database creation and management.
Tasha has been writing and publishing amateur fiction on-line for many years on her livejournal (beren_writes), and still does. She believes that fanfiction is a wonderful arena for writers to get together, have fun and hone their skills. Anything the gets people reading and writing is a good thing.
She runs Wittegen Press, a small publisher of eBooks and controls the website and deals with the everyday interactions for Wittegen because Sophie (her twin) still has a "proper" job ;). She also designs the front covers for some of Wittegen's books and deals with the formatting for both hers and Sophie's books.
Purchase and Social Media Links:
Goodreads (book) | Goodreads (Natasha) | Site | Twitter